I got a body painting request from advertising agency
Nordenswan & Siirilä
 in 2015. The brief was to create body painting on acrobats for the new visual look of an IT company. At first I thought "Really?" and immediately after that "REALLY!" What an amazing idea. Little did I know at the time how amazing though.
Efima is an IT company that develops and implements digital business and financial management processes. Their customer base comprises large and mid-sized organizations from all industries. Efima has grown in five years from four people to almost a hundred and has become a sought-after workplace. Efima's visual look has always been different than usually in their industry. Since 2010 they had animals representing the strengths and features, the characteristics and the values of their company. With their rapid growth, the visual look also needed renewing. So it was the natural  evolution – Efima Evolution.
As a body painting artist I loved this project. The art directors had very good ideas and sketches for the paintings, but I was also given freedom to execute them as I thought would work best. There were many factors to take into consideration when planning the paintings – the poses of the acrobats, how they would be posing together and seperately, which parts of the body would be prone to rubbing and sweating. All the poses were planned prior to the shooting days and the paintings carefully designed to fit those.
In addition to the design the colours needed to match too. It took a little while to come up with good mixes to get the tones right, but it proved I always need to take those colours with me that I think I won't need! 😉 You never know when they might come in handy…!
This was by far one of the best teams I have worked with.
The team of different artistic skills put together, listening to each other, supporting each other and creating together a mutual vision was something that not only inspired me, but the process itself reflected the values and the ways our client Efima likes to work. Coincidence?
Efima's visual look is still based on these brand images in 2022. I believe that proves how successful this project was and how well it matches to the company identity. Amazing I think!
What do you think of the end result of Efima Evolution?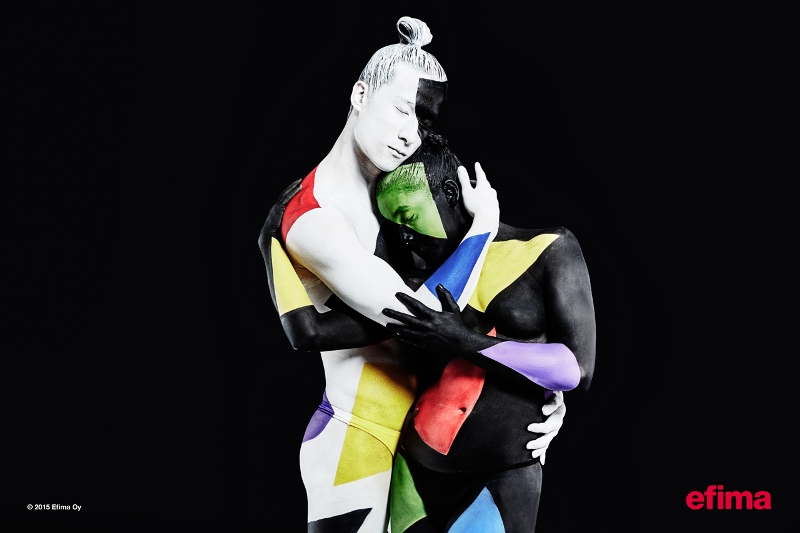 Project Efima Evolution
Client Efima Oy 
Design, Art Direction Nordenswan & Siirilä 
Photography Marek Sabogal 
Body painting Riina Laine 
Body painting assistant Jaana Veronika 
Akrobatics Duo Knotcase: Milla Lahtinen ja Sofia Sarojini & Joona Kaakinen
Videography and production Kai Widell 
Music 
Jutta Annala & 
Mikko Kierikki