BODY PAINTING FOR PRIVATE CLIENTS
Feel amazing

in your skin &

fall in love

with your body through art!
Get yourself painted or give someone a gift to remember.
A present for a wedding, a birthday, a baby shower,
or just a fabulous experience you can give to yourself.
This extraordinary experience will boost your confidence and make you feel amazing in your skin. 
Being body painted is memorable and empowering. It's a wonderful way to celebrate the body that carries you through life. ​No matter how much or how little you dare to bare, it should be on everyone's bucket list.
Many people feel it's changed their perception of their own body into more positive. Body painting has incredible power to transform you inside and out.
​​
Empowering body painting is unique and custom-designed. It can be based on your ideas and wishes.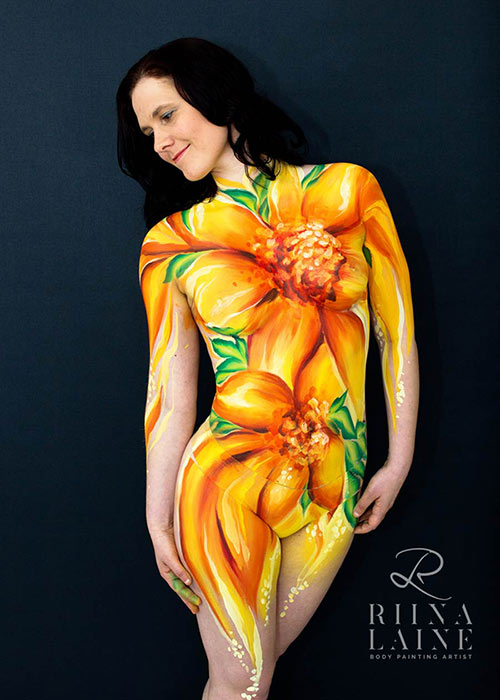 Art for the Miracle of life
Perfect gift for yourself or for your friend's baby shower!
Belly painting is the most wonderful way to celebrate pregnancy. It's a nice way to relax and pamper yourself when you're expecting and it's makes a perfect gift for a baby shower!  The painting is designed according to your wishes and ideas, or you can give the artist freedom to create something beautiful and adorable.

The painting is photographed and you can have it framed in the nursery as a nice memento. And if both parents take part it becomes a lovely family portrait.

​The paints are of course non-toxic cosmetics and meant for skin, so this is definitely safe.
Exclusive Fine Art Experience
For you who wants something extraordinary.
Book your body painting experience
Tell me what kind of body painting you're interested in and let's see how we can make it happen. If you have any questions, don't hesitate to ask. I'm here for you.