Love

&

accept yourself

just the way you are.
Hey you, who wants to love and accept yourself the way you are.
Would you like to see and feel yourself stronger, braver and bubbling with energy?
Would you like to feel more confident about yourself and your body?
Are you looking for a relaxing moment to yourself, a new and exciting experience and a meaningful photograph of yourself?
This art experience is especially for you.
Empowering body painting celebrates the body that carries you through life.
Being body painted is memorable and emotional. 
No matter how much or how little you dare to bare, I wish it was on everyone's bucket list.
Feel amazing just the way you are!
(Empowering Body Painting = Voimauttava vartalomaalaus® registered trademark in Finland) 
Empowering body painting boosts your self-confidence and makes you feel amazing in your skin.
Many people feel body painting has changed their perception of their own body into more positive. The touch of the brush feels relaxing and the painting on your skin liberates you and increases acceptance of your own body. Body painting has incredible power to transform you inside and out.
For 15 years I have seen how great an impact my art has on the people I've painted. For that reason I have created this Empowering Body Painting -service.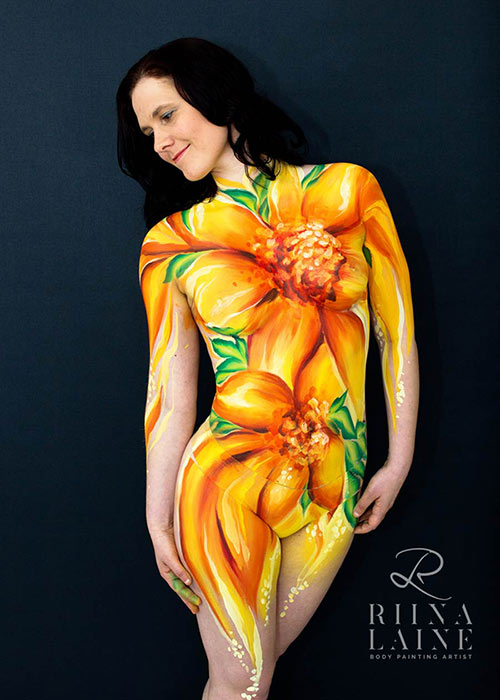 Unique painting that highlights YOU.
Empowering Body Painting is unique and custom-designed. It's based on your ideas and wishes according to your chosen package. 
Body painting works as a tool that can help you see yourself in a new way. Empowering Body Painting can help you find the side of you that's been hidden, or the part of you that you have suffocated.
You can become visible through art, exactly the way you are.
Liberating and energizing experience that relieves stress, shame and self-doubt.
For you, who wants to love and accept yourself.
Empowering body painting is suitable for anyone.
No matter what size, shape, colour or age you are.
This is especially for you, if…
☆
you are insecure about your body and would like to show yourself more kindness.
☆
you would like to see yourself with fresh eyes.
☆
you are ashamed and hide yourself, even though you wouldn't want to.
☆
you need some calming time for yourself and a chance to just be and focus on yourself .
☆
you want to do something new and step outside of your comfort zone.
☆
you want an exciting experience and a stunning art photo of yourself.
☆
you want to bring your story to life through your body and art.
Me without clothes on in front of a stranger? No way!
You might feel a bit uncomfortable at first, letting me, a stranger literally on your skin and to create my art on it. In that moment you also need to face yourself, because you can't fiddle with your mobile or focus on anything but being.
The discomfort fades away quickly. You will notice, that the situation is actually very natural, relaxing and joyful. At times you might fall into your thoughts and even forget the painting. Thoughts and emotions might arise, and it's okay. You can talk or be silent.
In the end you probably can't put this experience into words. You become a part of art and the art becomes part of you. Body painting has an amazing ability to transform you inside and out.
And then I'd need to pose for the camera? NEVER.
Empowering Body Painting package includes photography. The artwork on your skin is immortalised in a photo.
Many people find being photographed scary and akward, but without even noticing it, the painting on your skin releases the fear of posing.  When your body is painted, it's easier to be visible and open. You don't pay attention to "the flaws" but you're present and real, and that creates a perfect photo.
The photo is supposed to be a visual and tangible memento of your experience. You get to choose your favourite one or pick many. You might surprise yourself and have the picture printed on canvas as a powerful artwork on your wall. You might not even imagine doing that now, but my statistics speak different!
You get inner power for a long time
Empowering Body Painting is an experience you won't forget. The painting process may be more important to you than the final photo included in the package. For many, however, the experience really opens up a little later just when looking at the pictures. The body painting experience touches both the skin and the inside, so it can be so profound that it requires some time to absorb it all. The most beautiful feedback has come even weeks later!
Hi! I'm Riina. I have also struggled with accepting myself and my body.
As a child, I was brave and outgoing, loud and shameless. I had a lot of friends and I loved to perform whenever the opportunity came. According to what I've heard, at a party once I rushed to the stage excited and sang a popular Finnish childen's song. When an error came, I stated "No" and started all over again. Brisk without a drop of shame.
But like many, that girl got lost somewhere on the threshold of middle school. She was replaced by uncertainty and difficulty accepting herself.
I was that girl with straight A's who demanded more of herself than anyone else. My perfectionism increased my uncertainty, nothing was enough for myself. At the same time, I was in pain as I received positive attention for my success as well as name-calling. I just wanted to be like the others, to merge into the crowd. It was hard to accept that I was visible, even though at the same time I missed it immensely.
At the same time, insecurity about my body arose. It started from the inappropriate laughter of some boys in elementary school. Those comments stayed in my mind for years and I couldn't let go of them. I considered them true and covered "the flaws" of my body even as an adult. With age, gentleness towards oneself naturally increases. I, too, gained confidence through work, friends, relationships. But nonetheless, I carried complexes with me.
I've been doing body painting since 2007, and over the years I've noticed how big a positive effect my paintings have on my models. The initial nervousness disappears and most forget that they are almost naked. The joy of seeing oneself as a work of art is palpable and no one has mentioned anything negative about their body after the painting has been finished. 99% would like to get painted again.
As I had painted so many people, I wondered if I could feel like my models. Could body painting heal my wounds too? I myself had only had my face painted, and I seriously suspected that the magic of body painting would not work for me. One day when I felt really down I forced myself to try the paint on myself. When applying paint to myself in front of the mirror, I remember feeling desperate, I saw all the flaws of my body. I cried too, but I persevered. And the more finished the painting looked like, the easier it felt to breathe. And when I looked at the pictures on my camera screen, I sighed out loud "wow!".
I still don't understand what happened at that moment, but the uncertainties about myself that had disturbed my mind for almost my entire life began to vanish. I named my painting "Dance with myself" and the printed artwork still adorns my kitchen. I've painted myself again since, but painting myself is so hard that today I prefer to focus on making other people works of art! 😄
That feeling is indescribable when I see my client's joy and how they are moved by their own image. It's so amazing to see them praising themselves and what they look like. They wouldn't want to do anything else but to stare at themselves in the mirror and admire. That transformation touches me every time. That's why I love this – Body painting is wonderful, but  there's nothing better than making another person see themselves as gorgeous as the rest of us see them!
How is Empowering Body Painting implemented?
BEFORE THE PAINTING
☆
Coffee/ tea and a little snack whilst we get to know each other.
☆
We go through your ideas for the painting once more.
PAINTING SESSION
☆
Body painting according to your chosen package (approx. 2-4 hours)
NOTE: I use only paints that are meant for skin (no acrylics etc!)
☆
Photographing the painting (30-60min)
☆
Chatting and reflecting
AFTERWARDS
☆
You get to enjoy the painting at home and really take it in.
☆
You get to see approx. 20 images, of which you can choose your favourite one. You get a high resolution and web version of the edited photo.
EXTRA
☆
If you can't choose your favourite photo, you can always order several.
☆
You can also book me to do your hair and make-up for the session.
☆
You can have your photo printed as your power artwork for your home.
STUDIO
I have a studio in Herttoniemi, Helsinki (Finland). I have apoointments with my private clients here and depending on your chosen package, this is where your painting and photoshoot take place too.
WHEREVER YOU WANT
Of the Empowering Body Painting packages, the Power Place -package is executed in your chosen environment. For other packages it is also possible for me to come to you. If you're interested in this option, please contact me in advance ->
riina@riinalaineartist.com
.
For now, I don't have an automatic booking system, so you can enquire about available times on your booking email. It varies, but usually there are times available within a month or two.
It's best to book a whole day for this experience from your own calendar. That way you get the most out of this even after the painting session. (Most people wouldn't want to wash the painting away and some have regretted that they didn't have a chance to enjoy the painting till the evening!)
What does Empowering Body Painting cost?
I have three different packages available for you – POWER COLOUR, POWER THEME and POWER PLACE. Below you can see how the packages differ from each other and you can click to view sample images. Below them you can see the additional services.
Choose the package most suitable for you and contact me!
If you have any questions, don't be afraid to ask.
What colours touch you? What colours feel strong to you right now? What colours attract you and give you energy? Or simply, what is your favourite colour?
This empowering body painting is abstract and created with colours chosen by you. The painting is done intuitively on a half or full body.
Style: Abstract
Location: Studio
What theme or subject is important to you? Do you have any special or important matters in your life that give you power? (Examples from my clients: spirit animal, nature, a beautiful scarf inherited from grandmother.)
This empowering body painting is abstract or objective and created with a theme chosen by you. We can use your power colours for this one too. 
Style: Abstract and/or objective
Location: Studio
Is there a special place that has great meaning to you? What place reflects your story? Or where do you find peace, feel centered and balanced? Is it maybe the forest near you, the seashore or the garden of your summer house?
This empowering body painting is abstract and photographed on your chosen location. We can use your power colours to this on too. Alternatively, we can merge you into the surroundings with camouflage painting technique. Depending on the location/ weather the painting is created indoors in advance or at the location.
Style: Abstract / camouflage
Location: Your chosen place
The package includes travelling costs in greater Helsinki area. If your special place is somewhere else, just request a quote.
The prices include one digital photograph in high resolution form. You can order extra photos for 50 € each. 
If you want, I can style your hair and do your make-up to match the overall look. Investment for this package is 190 €.
All prices include VAT 24%.
We reserve the right to change prices without prior notice.
Book your empowering experience