The most common question people ask me when they hear I am a body painter, is what body painting can be used for. The list is almost endless – performances, events, parties, fashion, trade shows, music videos, photoshoots etc. On this post I'm now concentrating on one of the most interesting uses of body painting – advertising and marketing.
I'll start with this example.
Body Crash created by my collegue Emma Hack for Motor Accident Commission (MAC) of South Australia
What do you think? In my opinion this is by far the best advertisement I have come across that uses body painting. It is clever and the message is obvious. Emma has done an amazing job in this, these kind of multi-body installations are very difficult to create, but so very effective. You can't help but try to count how many bodies there are, right? Talk about engaging!
Instead of a car crash, a Finnish food manufacturer Apetit had a fantastic campaign with multi-body illusions for encouraging people to add more vegetables into their everyday diet. I got to design them a human broccoli, red onion and carrot. The TV commercial and online & screen ads were seen everywhere in Finland and the buzz was real. If you mention "human vegetables" in a conversation, most people remember this ad campaign.   
(You can read more about this campaign  here -> Creative advertising with body painting )
The key to being an effective ad on print, TV and online, is to be noticed. A great ad gets people to look at it, talk about it and remember it. 

These ads are perfect examples of the effectiveness of body art. The painting can be done on one body or 15, it can be beautiful, shocking, objective or abstract, and the reason why it's great in advertising – It's art used as a messenger within a cleverly built concept.
WHY DOES BODY PAINTING WORK SO WELL IN MARKETING?
There are plenty of other ways to get the message through, right? It's very simple – body painting always attracts attention. Yeah okay, but why? 
Us humans we are naturally intrested in the human body. We all understand human body – we all have one ourselves. We are also interested in art, one way or the other. So when these two interests are combined, that's where the magic happens. When the human body is dressed in paint, it becomes an art form that is easy to comprehend, and what makes it exceptionally interesting to look at is that the canvas is like you. Be it a still ad, a video commercial or a live promotion, body painting catches our eyes. It's fascinating and it often tricks the eye. It's art that breaths.
HOW TO DESIGN A CAMPAIGN WITH BODY PAINTING?
Body painting artist is usually booked to the project very early on. Often the idea and the concept is already done, but as there are many things to consider when using body painting, I recommend idea swapping and open & honest conversations with the artist and other team members before putting the stamp on the final goal.  If you are interested in using body painting in your campaign, but don't have the idea how, don't worry.  You don't always have to have the whole idea yourself, we as artists can help you with it. We have our heads full of ideas and  also knowledge in what is , and could be, possible.  Brainstorming is a good way to ensure the best outcome for you.
Body painters often have great networks as well and can help finding suitable models (dancers, acrobats, athletes etc) and also other team members like photographers, who are used to shooting body paintings (there are some tricks to that as well). 
Advertising & marketing projects always focus on delivering the best result for the client. Therefore depending on the project, sometimes the body painting artist can have more responsibility in the artistic direction of the process and sometimes they work more as the technician. All artists are different too, so it's good to do some research and look for the one you feel would best suit your project. If you are unsure about how to use body painting in your campaign, contact the artist beforehand and ask questions. We are all passionate about our work and always willing to tell more about it and discuss ideas.  At least I love to challenge myself and I strive for new ambitious projects and always aim for amazing results.
Body painting is a brilliant way to catch people's eyes.
Body painting is a fantastic way to catch attention. Whether it's one body or five, a full body or just a hand, a camouflage body painting or painted clothes, people pay attention. We are naturally interested in the human body and when there is paint on it, it's fascinating. And when this is cleverly fit into the context of the ad and the message you want to deliver, it just works wonders.
There really are no limits to this, so I bet that any business could create something magical to boost their marketing with body painting. Or what do you think? Check out the following examples of different marketing concepts , and see how different they all are!
Examples of great marketing concepts using body painting
BODY TELLS THE STORY | Client: Pfizer | Agency: Ahjo Comms (former AC Sanafor)
This was a non-smoking campaign for  Pfizer in Nov 2014 and Jul 2015. The goal was to show the dangers of smoking in a new and shivering way in which the visuality and the storytelling quality were the keys in creating high impact.
This campaign has now been praised internationally – the campaign won Silver Stevie Award at the 2015 International Business awards and it received Honorary Recognition of Excellence at 2015 Pharmaceutical Information Act of the Year. It was also short-listed at SABRE Awards EMEA 2015    and  IPRA Golden World Awards.
This campaign received plenty of media attention and is the most commented/liked on my social media too.
You can see more insights  of this campaign here -> Body Tells a Story – No-smoking campaign (Case: Pfizer)
MINNA PARIKKA | Design & Production by Janine Rewell
These pictures for shoe designer Minna Parikka show how perfectly body painting can be used within fashion advertising to support the original designs. This campaign has been shared in hundreds blogs around the world and it received the Golden Prize at Vuoden Huiput (The Best of Finnish Advertising and Design competition).
Through world-wide social media attention our bright and colourful images have also ended up on the covers of PANTONE Formula Guides and PANTONE Solid Chips. 

You can read Janine's interview and   Pantone's article about the creative process behind these body painting images . 
EFIMA EVOLUTION | Agency: Nordeswan & Siirilä
Efima Oy is a rapidly growing  IT company that develops and implements digital business and financial management processes. Their visual look has always been different than usually in their industry. Since 2010 they had animals representing the strengths and the features, the characteristics and the values of their company. With their rapid growth, the visual look also needed renewing. Nordenswan & Siirilä designed the natural evolution to them – Efima Evolution.
This project produced the company the branding visuals for their website, brochures, press materials, in-house & client magazine as well as their job advertisements. Combined with great copywriting the company stands out in their business field like no-one else.
(More about this project -> The odd but perfect match of body painting and IT company – Efima Evolution)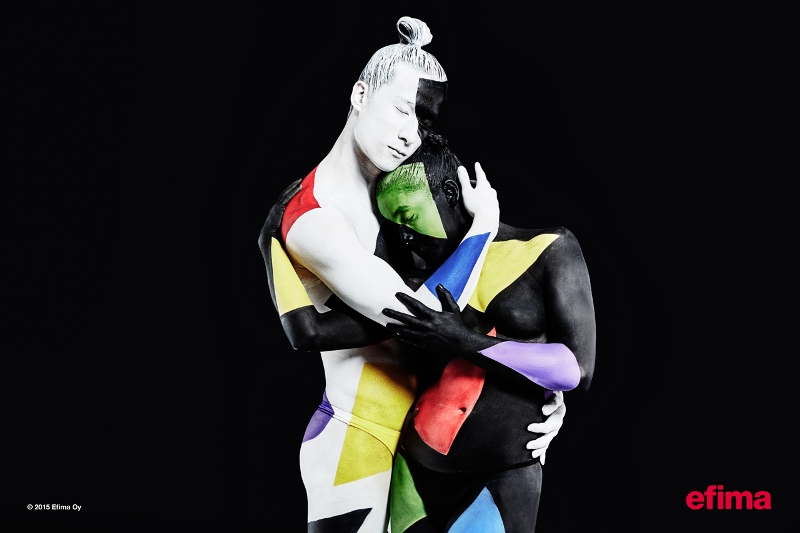 MR DREAM | Client: Taiga Colors
Taiga Colors is a Finnish design studio specialized in pattern design. Taiga Colors has its own bag and interior design collection, and a flagship store in Helsinki. They also provide   custom designed corporate gifts and interior design products for companies and public sector. Taiga Colors commissioned this painting to promote and celebrate their 'Daydream' print. The project combined a live body painting session for the visitors to watch and a photoshoot to capture the image for their social media campaign. Mr Dream    invited people in the flagship store very successfully and the project itself works as another great example of collaborations between different design arts.
MAGIC MONDAY | Client: Veikkaus
Sometimes body painting models can be a bit furrier. Here's a  glowing  TV commercial for Veikkaus Oy,  the Finnish state-owned gaming company.  This powerful commercial got extra media attention  too as people were interested in the making-of part of the  campaign. 
(Read more about the project here ->  UV Body painting on wonderful horses )
UNDRESSED FROM SUGAR, DRESSED IN FLAVOUR | Client: Valio
Valio is a Finnish dairy giant, whose super idea to promote their  flavoured fromage frais was wrapped around body painting. The advertising agency Bob the Robot and I created the visuals promoting the strawberry and vanilla flavours.  Clever copy combined with matching paintings .   These ads were showing in the centres of cities and towns around Finland. The grey weather was certainly brightened up by these posters!
See more about the behind-the-scenes of this campaign here -> How to catch attention at bus stops?
LIVE COMMERCIAL EVENTS | Various clients
Live marketing campaigns benefit from body painting too.  Its a fantastic way to attract attention at trade shows, product launches, all sorts of PR events, corporate events, festivals, you name it. People  love watching the painting process, they love seeing the transformation. And once the paintings are done, the models become these living pieces of art that the crowd can't stop looking at. Body painting adds excitement to your live campaign and gets  people to notice you and your brand.
The paintings are always designed to fit your needs and your theme. We can add even more value to the paintings if we incorporate your logos to them, that way the models become walking advertisements for you. A great tip is to have models who are professional performers, dancers, acrobats – that way you create extra buzz around them. Photos and videos of the models give you awesome content for your social media even after the live campaign is over.